YG5602 Gatekeeper Dual Swinging Gate Opener Operator
Duty Dual Swing Gate Opener / Operator Automatic Gate
This kit includes many extras not found in other products.
Includes active IR photocell ($70 value), key switch, button switch,
light kit, actuator cabling, 2 Remote Controls and Electronic Lock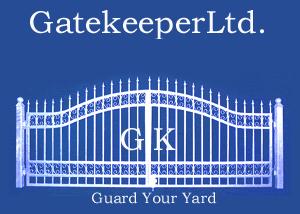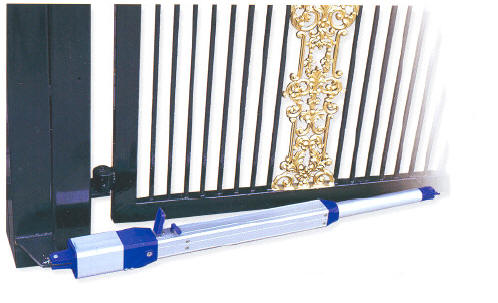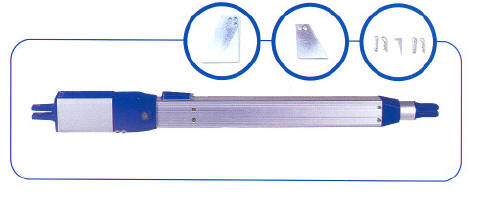 Use the Gatekeeper YG-5602 at home, ranch, or farm to open anything from a single swing tube gate to a pasture or the double swing iron gates of your home. Use the enclosed remote controls and never get out of your car (or off your horse) again.
The Gatekeeper YG-5602 opens a double gate up to 24 feet wide weighing up to 1320b (12ft and 660b per leaf). Works with wood gates, pole fencing, wrought iron gates, or chain-link fences. The Gatekeeper YG-5602 is customizable to your needs. All configurations and options are well documented in newly rewritten procedures (Dec. 2014) and explained in YouTube videos. Or call the US-based support desk 24/7.
The Gatekeeper YG meets all Underwriters Laboratories (UL)-325 Safety Standards to reduce the risk of gate-related accidents. It meets the UL Fourth Edition standard requiring any automatically opening gate to stop, and reverse, when it encounters an obstruction.
Your Gatekeeper YG-5602 arrives with: Two actuator/operating arms, Weatherproof control box, All mounting/installation hardware, Complete installation instructions (completely rewritten in 2014), Site preparation information and checklist, Electronic lock and keys.
Add an OSM-1 to control your gate from your smart phone Here
---
Safety First:
Check our competition, many do not meet some or all of the UL-325 Safety standards.
The CPSC reports that from 1990-1998 an estimated 6,800 injuries (or 755 injuries per year) were related to automatic gates. Among those incidents, there were 28 automatic gate-related deaths during the same time period, involving victims from 17 months to 60 years old.
UL325 Fourth Edition requires that automatic gate openers not only stop when they encounter an obstruction, but also reverse to prevent compression or strangulation injuries. Make sure the gate opener you purchase includes both of these safety features….Gatekeeper does.
---
Features:
Supports gate leafs up to 660b or 12 feet (3.6m)
Dual Gate Opener opens 2 leafs 24 feet or 1320lbs
Battery Backup for power outages
Keypad Interface
Single Button Interface
Infrared Safety Beam Interface
Supports up to 100 Remotes, 2 included.
RF Rolling Code, prevents thieves.
Auto-Close Feature
Solid Steel Lock included
Push to Open or Pull to Open Configurable
Self Learning Opening / Closing Limit Capability
Manual Key Release for Emergencies
Self-locking and reversible gear motor
Die-cast aluminum and quality painted body
Water-proof design
Extremely quiet Overheat and over-current protection

Adjustable output thrust
Built-in micro-switches for gate opening arrest
Relay Coil Voltage: DC 12V, SCM power supply: DC 5V
Easy installation, full fitting accessories are provided with motor kits
Operator can be post mounted inside gate and gate leaf direction can be both inward or outward.
Adjustable auto-close child safety obstruction sensitivity and dual gate operable sequence.
Power Supply: AC 110V
Max. power 735W
Electronic Lock: DC 12V 2A
Operating Time: 12 seconds ~ 100 seconds
Control panel with interface for photocells, loop detector, IC card reader & alarm lamp, and Keypad
Weight of Control Box: 4.4. lbs. (2Kg)
Time-Delay protection
YG-5602U Swing Gate Opener / Operator
Technical Data
Model
YG-5602U
Maximum Gate Length
3.6M / 12 Feet
Operator Linear Speed
No Load (mm/sec)
W/Load(mm/sec) 65Kg
18+/-10% mm/sec

15.9mm/sec

Stroke Length
365mm(14.2 in)
Maximum Leaf Swing
120 Degrees
90 Degree Operating Time
10-12 Sec
Operating Current
2A
Motor Power
12V DC
Power Supply
110V AC+/-10% 60Hz
Approx Dimensions
80mmx80mmx1235mm
Working Temperature
-40C to 50C
Weight
8 Kg
---
Reliability:
Your new Gatekeeper brand Gate Opener will work reliably for years to come, this is a VERY heavy duty high quality opener, not like some of the cheaper models available online. Gatekeeper is one of the leading manufacturers of Gate Openers world wide, they provide a full one year warranty from manufacturers defects. You know it's Gatekeeper, so you know it's quality!
This opener has steel gears and uses DC power for enhanced safety!!
Compatible with Solar Power Systems!
| | |
| --- | --- |
| This is a gate opener / operator for a dual swing gate. It includes the controller box, two remote controls electronic lock and other assorted hardware necessary for installation. This is a brand new unit and has never been out of the box. | |
*Packages include (Brand New in The Box)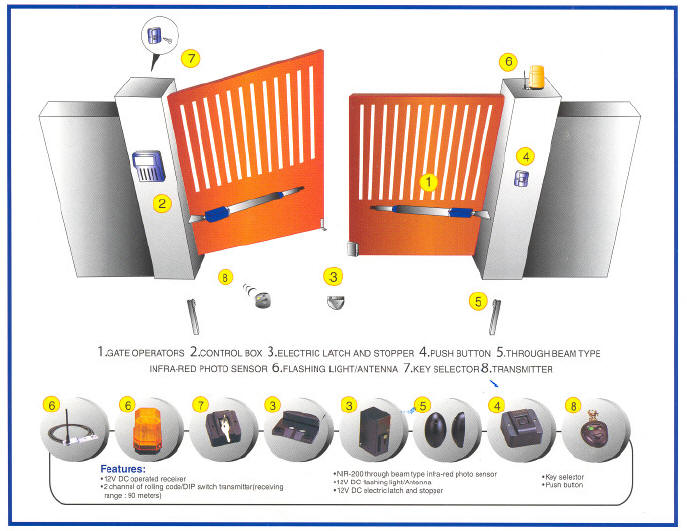 2 Operator Arms

Control Box

2 Transmitters

Complete Mounting Hardware

Electronic Lock

Photo Beam

Flashing Light

Key Selector

Push Button Switch
This unit is in new condition and has never been out of the box.
( Keypad Sold Separately)